Content is king, that's true, but not many organisations came to this realisation as yet. Whether you marketing content can gain kingship on internet search, it all depends on your content writing technique applications.
So in order to produce a kingly content which makes you king over the Google search results, here's what you have to know…
Getting viewers to visit your site is useless if they do not come back to you and become your buyers. As a result, you're not going to make money big and fast. A lot of people can read up your content, but if you want them to not ditch your content site (high bounce rating)o and return to the website again and again, you have to do more than just writing a content website.
According to the KISSmetrics, between 70-96% of netizens do not have the desire or interest to return once they viewed a content page, and this has been the dominant drawback among every organization who are trying to make business just from their website.
The saddest thing is that the majority of business makers have this concept that they have to do more than just content website creation, such as using more time, energy or incurring more production cost such as billboard advertising, radio or publishing printed ads on newspapers. Worse is, these marketers have been so busy in the production processes, yet dismissing the power of content. The reason why many businesses fail to gain a flock of customers online is not because they have not done enough or lack of marketing strategy, but in actual fact is due to the lack of content creation strategy. Once you believe that the content is king, it changes everything!
Before you proceed, take note of this: 
92% of digital marketers put content marketing as the No.1 asset to hack market growth!

51% of digital marketers plan to boost content marketing expenditure from 2018 onwards!
Here are some of the most effective tips to turn your website into a product or service promoting channel:
 1.Provide CTA (call to action) info 

If a website does not have CTA, it will just be a leisure or informative reading without the selling. If visitor bump into your content website, you don't just let them leave the website without knowing more of your company on what you can offer to them. What if a random visitor who only wants to look for information, suddenly becomes interested in your products? That's the time to give them all you got, which is to include all your company's contact information such as email, mobile number, livechat, feedback forum so as they can connect with you to know more of what you are selling. Who knows, this random online visitor can also become your next target buyer too!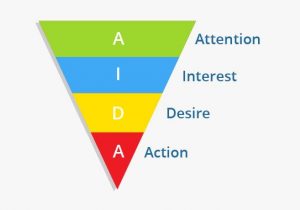 The AIDA sequence in marketing should be applied even to content creation because if the content does not contain CTA info, the AIDA sequence which is the foundation of marketing your sales will be incomplete, and people will lose interest in buying your items or services. Instead, it will become attention, interest, desire, but missing out the action, whereby readers can only like the content and not being able to get back to you.
2.Break up your contents for easy reading
It is highly encouraged for your content website to be as detailed as possible. Then again, there is this one thing that every content creators must take note of, which is to break up your contents so that people won't have a hard time reading and interpreting your main message that you wish to convey.
First off, take care of the way you format your content writing, and do not let your words become juggled and cause confusion in reading. Because when you write too much and yet not taking care of your formatting style, you will give lots of headache to the readers and these readers will lose interest in entertaining the rest of the content below. So, even if you give a really great content and even including the CTA info, but by then, people get tired of reading and give up on whatever you want to say to your target audience any further.
Also, put in bullet points, numerics, adjust the easy-to-read font, and don't miss out the paragraph spacing as well, because that's what makes it easier for people to read and not so tiring for their eyes when they scan through your message. Also, try to add as many numbers and percentage value representations more than words, such as "80% of content readers love accessing social media like Facebook".
The reason is because netizens only care to scroll through your page in lightning speed and they expect that your content is engaging and straightforward even when they scan through your page too fast. The most they spend on researching on certain products or services is less than 10 seconds, and they will spend only 6 seconds a most on a certain blog content visited, so if you want your message get out faster than your target audiences' fast-scrolling habits on web pages, better break your paragraphs often; don't let your paragraphs end up being too bulky and wordy.
3.Make your content site as colorful as possible by adding images, infographics, animations, pop ups, audio or/ and videos
Even if your website formatting makes it easy for your netizen target market to glance through your website, but then most of these people have goldfish memory towards your main message that you try to deliver to them. Even more so, every digital marketers must constantly keep in mind that not everyone are bookworms or good readers, especially to content websites that does not contain  anything colorful or motion-like for these people to view and get entertained for long.
These target audience are for sure going to get really bored with your content, and when they feel bored reading further, your website content is in absolute danger.
Thus, what you can do to keep your target audience longer on the website is to engage them with as many vibrant images of your product or services. Secondly, put in as many useful infographics as evidence to prove that whatever product or services your organization offers are trustworthy.
Also, sometimes animations can be a form of entertainment for readers to be attached to your contents, and it will be addictive for them to read further after each pictures and animations. Adding on, it is also better if people visit your website, and your website auto-plays the jingle or company theme song, which prolongs readers' memories of your website message that you deliver.
Creative pop up ads will also increase the interest of readers to conduct the call-to-action (CTA). Most of all, it is even better to include video marketing to promote your website even better.
4.Get to know what your target audience wants before you create contents
Even how nicely you build a website, you have to determine who will read your website, and those people are your target audience in order for your website to attract more viewers. If your topic is not addressing what people usually search these days, your article will not have any value to it.
Therefore, it is best to write something that is trending and most searched by people, and that will a great help for your content website generate more leads and the likelihood for your website to appear at the top search in the search result (SEO- Search engine optimization) is high.
This way, digital marketers can have an effective SEM (search engine marketing) input and ROI from a content website.
In this era which focuses on technology and social media interaction, it is advisable to post your content on YouTube for video contents or SNS, such as posting the website link on Facebook and let it be redirected to the olanding page of a website itself, as most readers usually have a social media account and are active users of SNS. Then again, let's say your products that you are selling is more for the senior citizens, then from there, you have to discard the idea of using social media.
5.Don't just get done with your target audience after CTA, be well-mannered and thank them all
What marketers often missed is that after the CTA strategy, they just get satisfied with customers or subscribers investing in your products or services, or getting latest updates from organizations. Even though you do not interact with them one-to-one physically, but no one wants to communicate with a rude person online or offline. Even when talking to friends or clients, or even doing word-of-mouth promoting, of course you must end the conversation with greetings such as "thank you" or "goodbye see you again".
Again, people these days usually value customer relations more than anything else, so if your website is not interactive and building enough conversation, it decreases the chance for people to be attentive to your website. Sometimes, these greetings should be included after netizens leave the website so as to increase their longing to return to the same website content again. People will feel belonged, remembered and also feel warm if there is added pop up greetings while leaving the site, as seen from pop up example above.
This will be the effective way for websites to also become your persuasive marketing strategy, and also to get more loyal customers and also increasing customer happiness! Not just so, your content is also going to be a form of inbound marketing as well!
6. Monitor & Update your contents at least half a year once to keep your website always new
People get older, things also get old, but content website should never become old! If people access your content site and keeps reading the same words, seeing the same videos and images, people also can lose interest too. So, once in awhile, try to post new videos or rewrite certain words from your content to constantly make it look new.
Also, monitor your content and check on the ones who liked and commented on your comment sections at the forum or social media content. Also, keep an eye on how many people engage in your video content marketing too. This is the way to get back to them and have frequent communication and interaction with the potential target buyers-to-be.
As SNS and YouTube have analytic tools provided, activate it so as you can monitor if you target the right audience and whether your target audience enjoy reading through your content, and whether they are interested to become purchasers.
Thank you all for reading and wish you a happy reading! 🙂