1st of May is coming and the Labor Day shopping vibes are starting to kick in …
As the civilization is entering into the digital stream, it is a  perfect timing for digital marketers to give stronger doses of Labor Day vibes to keep the community more pumped up for this upcoming public holiday. It is advisable to stimulate the consumers with digital marketing strategies around 3 weeks before the day itself, on Labor Day, and also continue for 3 more days (8.5%) after Labor Day.
These here are the main digital marketing tips that online businesses should utilize into full potential in driving sales conversions:
1)  YOUTUBE VIDEO-INFLUENCER MARKETING
The sync of visual and motion marketing techniques captures powerfully the audience. Video marketing could take time and be expensive to produce good ones but short and relevant videos can catch the audience's eyes and increase video clicks.
The length of the video does not matter
Content personalisation is always the key. With YouTube marketing, marketers can tell heartwarming family or hilarious day-at-work stories. Motion-visual content in videos are best in describing a story or even a promotion deals.
Moreover, digital marketers can also do announcement of sales in short video ads instead of merely releasing a press release or news for reading. Attractive, Short & Simple .
As a matter of fact, people nowadays absorb and generate much faster and remembers the brand longer through video advertising on YouTube channels.
Furthermore, YouTube video marketing is also a bridge to influencer marketing. Digital marketers can also suggest to clientele to recruit influencers such as famous YouTubers like Lim Big Yong and Epicism to do a Labor Day funny commercial video while at the same time advertising on a product.
The reason why influencer marketing on YouTube advertising has been bringing such powerful message to audience (specifically among the teens and young adults),  is because they like to spend their free time to watch entertaining videos. They are even more attracted by videos with celebrities.
As youngsters these days shared an uncanny habit of sharing and tagging friends on funny contents on SNS (social networking sites), video-type influencer marketing on YouTube can become the most powerful tactic in motivating people to immediate purchasing decisions based on what they watched. Funny/influencers contents caused people to have a better and more vivid memories.
This is indeed a digital marketing strategy that will expand the radius of  followers and simultaneously turning these influencers' followers into loyal customers as well.
2)  BLAST OUT BULK HOLIDAY EMAIL NEWSLETTERS

The oldest method, but has been proven as the most effective method in driving engagement and call-to-action. As Labor Day is the most meaningful and special holiday for the working class, the CTR (click thru rate) and open rates of emails are mostly from the working class.
This is because working classes are engaged with emails during work hours and they leave their emails constantly signed in and opened. Therefore, the visibility of holiday emails will be higher among the working class, as they will be checking their urgent emails at 9-to-6 time-frame.
Most importantly, the holiday email campaigns must be user friendly and an easily-navigated landing page, because landing page is the very online point of purchase for netizens. Or else, the email that is purposed to drive sales and increase wishlist-adding is going to become the reason for online shopping cart abandonment whereby the reader who initially plans to purchase products/ services from the email decides to exit the site.
Also, if your business offers free shipping, be sure to make this headline in bold fonts, because according to the Baymard Institution, the core reason of shopping cart abandonment is due to high extra shipping cost and taxes which constitutes of 61% of online shoppers, having the highest percentage volume amongst other reasons like complicated checkout procedures or crashed websites and so on.
Therefore, by labeling "free shipping cost" into your newsletter, it can reduce this shopping cart abandonment issues and entice consumers to return to your product sales even more. Moreover, free shipping offers always have the highest customer transaction score. An even better email marketing technique is to send an appreciation mail to loyal customers or regular members by promising promotions and discounts for the Labor Day event in order to drum up engagement rate and increase brand loyalty.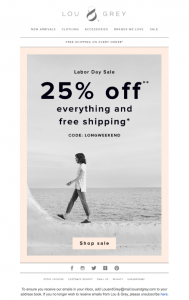 As for the headline title, it is best to put simple and direct yet meaningful sentences like "Sales 25% off" or "15$ Labor Day discount using promo code inside" because people in general hated spam emails.
In fact, people always label headlines with too-good attractive words as spam, as these headlines always appear too persuasive and commercialised until it becomes a nuisance for readers, and this can really hurt the open rates of the holiday emails drastically. Instead of turning the holiday event into a fruitful revenue gain, the headlines may become the cause of profit loss to digital marketers.
3)  SOCIAL MEDIA CONTESTS OF BRANDS ON FACEBOOK AND INSTAGRAM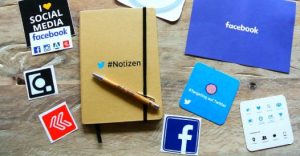 Labor Day is not just a day for the family to spend time together offline, but in contrast to this fact, people drum up their Labor Day vibes by sharing family pictures on social media. Moreover, the age today is filled with social media people, and during holidays, people spend even more time surfing through social media contents as fun times and for personal space.
What can be better than social media to capture the netizens' attentions with the upcoming digital marketing promotions?
This is because, not only working class will be engrossed with social media, young adults and teens are also having their holidays on Labor Day being free from lessons at school and colleges, in which the social media engagement during holiday seasons will be much higher.
For this, digital marketers should start the Labor Day fever by initiating social media contest on platforms like Facebook and Instagram emphasizing more on family themes, for instance by sharing family photo or food photos of a restaurant that customers went in order to post on the official account of brands in order to earn discounts and coupons from retail outlets and restaurants or services.
This method can inflate the organic audience outreach. Also, gain more potential consumers by asking them to like or follow the page by giving time-periods limit to users, such as "Like or follow our page from 25th April to 1st May to enjoy our Labor Day promo" or "Be the 1st 50 people to like and follow our page. The 1st 50 winners will be given mystery cool prizes", or you can also come up with "Share our promotion deal to 200 friends, and you will win our cool Labor Day prizes".
Every social media contests is interesting and engaging in their own ways, but the revenue and organic outreach results will be the direct reflection of your own creativity. Though the digital marketing campaigns become highly competitive during this season, but definitely it is a must to invest in this idea in order to boost visibility and increase the social media sharing amongst consumers' virtual friends, thus gaining a huger brand loyalty base.
4)  SMS NOTIFICATION MARKETING
As for SMS marketing, since it does not require designing like email or social media marketing, therefore the message must be short, simple and yet powerful enough to tempt mobile users to open the message.
In the SMS, what digital marketers must never miss inserting is the website of the brand or the CTA. Without designing, SMS marketing can also look even more appealing than both email and social media, because mobile users open SMS notifications even faster than emails. Moreover, according to the Campaign Monitor research study on the ROI showdown of email versus SMS, SMS open rates have 98% of open rates, in comparison to 20% of all email inboxes. Not only so, people in general take within 90 seconds to respond to SMS and 90 minutes for emails. Also, SMS has a higher open rate of 95% than of email which is 20%.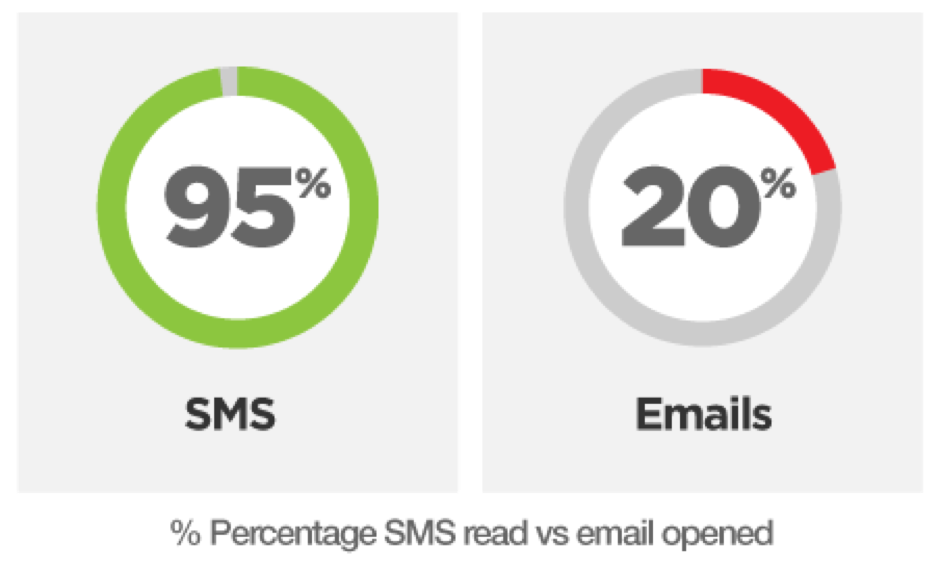 Also, 75% mobile users claimed that they prefer receiving SMS notifications than emails. The best feature of SMS marketing is that, because whenever an SMS is unopened, the notification panels on smartphones will always popup the unread messages to alert users, which will compel users to open the emails just to stop the popups. Whether the users like it or not, they have to either delete the message or open up the message, which is why 65% of digital marketers say that SMS marketing is a highly effective method to drive conversions.
Also, another good reason to use SMS marketing to draw in more lead generation is because in this age, people are evolving into mobile technology as people don't always stay at home. Even at home, our community enjoys scrolling through mobile phones more than laptops or desktops. Considering that in the events of the Labor Day season, people prefer to hangout to search for the latest products promotions that they can purchase rather than sitting on desk and chairs, and with this, people are more prone to opening mobile phones, which makes SMS marketing a more workable technique than email marketing, because people don't really like to open up emails during off-office hours and anticipate for incoming business enquiries.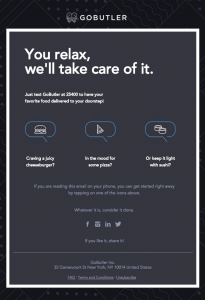 However, that does not mean that email is dead because of SMS. Email is the conventional strategy for digital marketers, but when it comes to designing templates, this is what SMS marketing cannot do. As readers always prefer visual content more than black-and-white letter content, email marketing templates are the "visual turning visitors to buyers" funnel. People who are in front of the computers during working hours ain't got the time for SMS notification, so to grab their eyes, email marketing is a must-use as well.Thus, don't just use SMS marketing just because it has higher open rates than email. What digital marketers can do is that they can send email newsletter first. Then, follow up on the customers on whether they have opened the email by sending an SMS notification to prompt them to read the email. Also, this technique can increase a more lasting impression of the brand amongst the readers by constant notification reminders.
5)  GOOGLE ADS PROMO DEALS POPUPS
Google Ads, the pay-per-click advertising (PPC) is one of the useful weapons in digital marketing industries. This is because Google Ads has the ability to stand out from the internet SERP jumble, which makes Google Ads the perfect medium to drum up SEO ranking. Its nature of high visibility makes it easier for potential target market to notice the ads more than many other types of marketing tactics like billboard or guerilla advertising.
Not only so, Google Ads is very direct in its description, which makes it easier to access to the CTA. Therefore, digital marketers should consider running a Google Ads campaign for clientele during this peak season of Labor Day, in which the Google Ads message will be conveyed to target market even faster than traditional ads due to its nature of being eye-catching and hard to escape readers' notice, as Google Ads can appear as shopping ads, search ads, video ads and display ads in which the ads will be remarketed into many forms and many times in so many channels.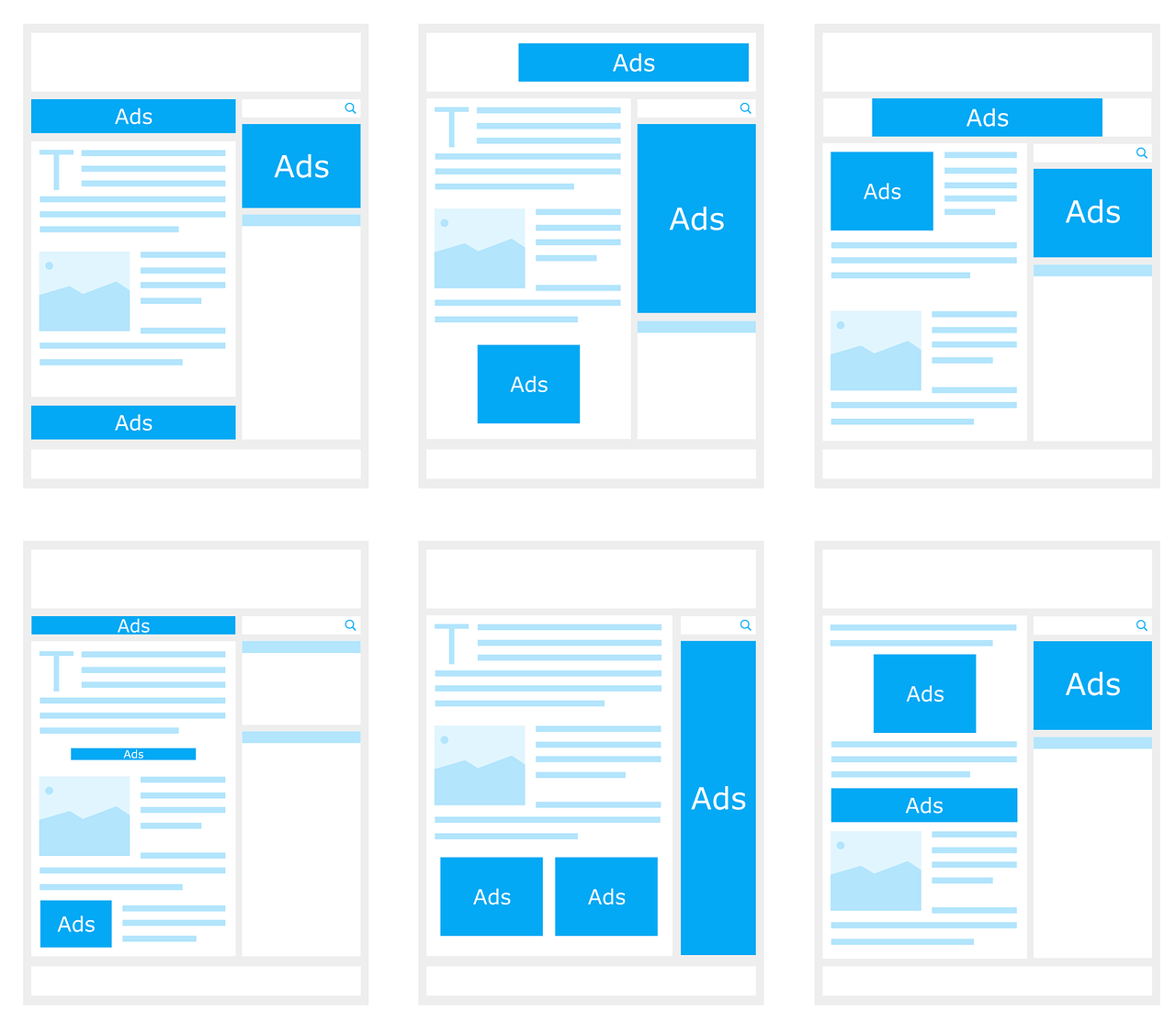 What makes Google Ads even more promising in driving leads is that the ads will be remarketed again and again for a period of time, depending on how the digital marketers set the timeframe of running the ads.
It can be slightly on the intrusive side, but Google Ads is a very powerful way to make a brand memorable and strengthen the brand identity as well. So, creating a strong brand identity during holiday seasons like Labor Day is a brilliant method for startup businesses to gain the brand recognition at the same time.
When people generate the message faster in their minds, it will result in a quicker purchasing decision, and this can actually boost company or brand profit in a very efficient organic reach.
Besides, Google Ads produces more relevant searches than just Google searching for product sales. As Google Ads keywords are built for relevance, this can drive conversions not just from new customers and bargain hunters for Labor Day, but also these new customers will be the target audience that the brands are actually looking for to drive sales conversions from them.
This is because Google Ads recognizes symbolic terms such as broad match, phrase match, exact match and negative match. This helps the target audience to get the exact or related products that they want to look for.
So, if a users types "Labor Day promotions 2019 for Nestle" on search box, the Google Ads for Labor Day promotion of Nestle will appear at the search results, and the first thing that netizens will notice is not the articles or apps or anything else below and beside, but the first thing that will capture their eyes will be the Google Ads campaign.
Then again, there is this one thing that digital marketers have to think about for this Labor Day season regarding the consumer behaviour. If the Google Ads messages descriptions do not tally with the consumer behaviorism of the shoppers, the campaign will be useless, because even how relevant Google Ads descriptions can be, but if you cannot relate to your consumers' Labor Day event habits, then the audience targeting will become a source of defeat for this particular business. These people out there will be mostly thinking about catching up with family members and purchasing gifts for friends and also searching for best bargain deals, so if your messages conveyed on Google Ads cannot relate to these messages and that the consumers cannot get what they are seeking for, then the Google Ads campaign will become a lost cause and even how visible the content is, people are just going to scroll past the ads and ignore them because they have already lost their interest in your brand or your client's brand because of your own Google Ads campaign mistakes. That is why, even in Google Ads campaign creation, be very careful of what you are advertising about.
6)  NATIVE ADS
According to a research case study conducted by Sharethrough, people are 21% more likely to visit the retail store (in-store traffic leads increase) of the brand which is advertised on native ads. Also, the study has discovered that the buying intents from native ads exposure augments by 18% and brand affinity increase of 9% than of banner ads and billboard ads.
Especially for trending news that you want to release, native ads is proven a powerful channel to voice out what's going on around us because of its high visibility and simplified content introduction. Moreover, native ads operate like a preview magazine to an original content which can spur reader's excitement to read on further. This will increase the CTR and also the inbound traffic as well. Not only so , this also encourage people to backlink to your original content as well using the native ads that you created as the tunnel path, in which Sharethrough proved the 20X inbound leads return on native ads expenditure value. The more inbound leads, the more opportunity for your content to be seen and shared as well, and this will increase the SEO ranking of your articles. In that way, you won't be writing a content in vain because with native ads is meant to stir curiosity among readers to look inside the previewed content that will be externally linked to your original content, in which it will increase the customer engagement rate and lessen the bounce rate.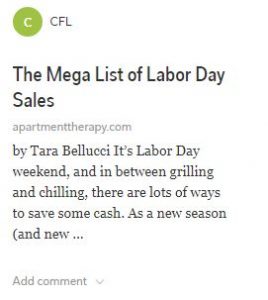 From Mobile Marketer research study 2019, the stats show that in-app native ads spur users into higher app installation rate during holiday seasons and a lowered cost per investment. As for the native ads in video form, eMarketer reported that digital marketers plan to grow the video ads revenue by 44%, aiming to reach $149B by year 2021. As for the retail holiday shoppers and bargainers, they had the lion's share of 49% in mobile native ads market purchase in the 2nd quadrant of year 2018. The share spends are the highest in e-commerce retail sites such as Shopee, Amazon.com, TaoBao which consumes to 28%, followed by media (23%). This is because during holday seasons like Labor Day public holiday, more than 57% of Chinese shoppers are hungry for overseas products and they are willing to spend their time just to search for their needs and demands, which is a prestigious advantage for native ads to be advertised during this timeline to increase the chances for your brands to be exposed and draw in more netizens as well as retail shop visitors to perform call-to-action.
LAST BUT NOT THE END…
To make your brand stand out for the upcoming the Labor Day events, you have to not only think outside the box and bursting with holiday marketing ideas brainstorming, but you have to think as a customer in terms of what they want to gain during the Labor Day season in order to curate relevant product deals to them.
Also, what you want most from customers is not by focusing on how you can profit from them first during the peak shopping spree weeks before the Labor Day itself, but you must first think of get these people attracted to your brand. As long as you use these ideas to excite your target consumers and use these strategies right, your brand won't fly off track, but instead will coast through the consumers-fanbase collections during Labor Day and gaining the optimum results and revenue beyond what you aim for.