Content marketing, which is also referred as content writing, is the lamp post of purchasing decisions among consumers and the determinant of your company ROI (return of investment). Competitors are always coming in our way with no end and trying to be wet blankets in our profit chase.
In order to meet customers and clients requests, it's not even about marketing your product or service, but it boils down to marketing what they want to hear at the right time and at the right place.  Here are the few useful tips every digital marketers should be equipped with.
"Left digit effect" in price psychology
The first thing any purchasing decision is made is by looking at the price. It is discovered that 9 is always the best left digit for every sales practices. Instead of putting $70, put $69.90 will cause the consumers to think that the item look cheaper. This will cause the pricing to appear under $60+ instead of a higher right digit which will repulse some consumers away.
The only way to create a positive consumer buying habits in your product is to make them perceive the price to be lesser or discounted than the actual value itself.  An odd number always looks more appealing than even number in pricing a product, especially when you want to market a new product. It will be the best warm up business effect!
C-Suites as the brand advocate in video marketing strategy
Many marketers use common strategies such as influencer marketing, engaging famous personalities as brand ambassadors, promoters, positive testimonial feedbacks from customers and also models for the big brands and startup brands.
Not many has in mind that CEOs can also be the face and the main character voiceover in video marketing to market a product or service, because all they think is this job scope of marketing of brands should be settled by the employees only. The smart way of building the most solid credibility is to use the C-Suites as the role players.
It is a useful weapon in generating leads, helps to invite and branch into bigger business opportunities, and finally building the trust of consumers through leadership. This is because people usually have this follow-the-leader attitude, so marketers should use this very behavioral psychology of consumers to target them right, which is to get them to listen to the C-Suites as the first move, instead of letting consumers hear out other marketers outside of the C-Suites statuses. Of course, other strategies can be used, but the first strategy should be to market what the C-Suites community has to say.
Flash sales cue to increase buying intentions
To get buyers to make fast decision and come back to you quickly, flash sales such as 70% off for 3 days, or 8$ off for first time Touch n' Go app  users from designated dates timeframe limit is a quick method of drawing more cash flow in digital marketing. Especially for the buyers who have hasty buying behaviors, this strategy will be perfect to gain these types of target audience. This increases the volume per unit sales. So, the lower the cost, the more exposure your brand gets from the new potential purchasers, and thus the higher your profit margins will be.
Online bulk product sales
Does this sales tactic hit home for you? This is the common and yet the all-time favorite tactic for people to grab multiple items instead of buying just one item. Adding on, bulk sales increase sales competence of a product, hence dropping the marketing and product circulation cost.
Another advantage is that it gives the consumer the hassle-free method by giving them the chance to depend on a singular source that offers several solutions, instead of looking at multiple buying options at different websites, such as looking at Uniqlo app only rather than looking at both Uniqlo and then Shopee apps for another cheaper clothing alternative.
USP as your flashcard to gain consumers' love at first sight with your brand
Don't just sell, because everyone can do the same and write the same boring promises. Online buying search results are constantly bombarded with intrusive yet repetitive ads, and because of this, it will be a challenge to get your brand really eye-catching. Hence, make your company conspicuous in the marketing crowd by selling something distinct from others, or by offering more services than what other competitors usually offer. This also cause the viewers on web to narrow down their searches even more quickly and by doing this, it will bring your company's profit-gaining journey in a supersonic speed.
Evoke consumer emotions by rhetorical appeals
This technique is usually utilized in persuasive speech, but isn't this the main goal of content marketing?
WOM, otherwise called word-of-mouth, has intangible profit significance whether offline or online. Then again, to increase the potency of buying intention influence among the buyers, it is by the effective emotion management on consumers. In order for a product or service to be convincing enough for purchase, it all boils down to how the product is being presented by the speakers or the content writers themselves.
This is the point where they need to build content by using 3 elements of emotive approaches, which are logos (logic), pathos (evoke emotions) and ethos (credibility).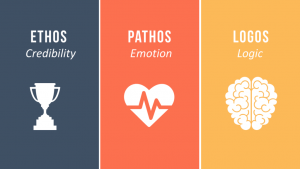 a) Ethos
The speaker or publisher must show credibility in their statements or by their position in a company, such as CEOs briefing about the products that they are selling in video marketing. Moreover, influencer marketing testimonials are also an effective way to build trust among customers
b) Pathos
This is by evoking both positive and negative emotions so that it will create the sense of need and urgency for them to purchase the products or services. Usually this kind of persuasion technique in pushing buyers to consider their brand is by using hard-selling marketing technique. These products usually range from security-based such as Malwarebytes Antivirus popping up notification to upgrade to premium package for enhanced networking security features that every computer needs by captioning urgent promoting statements like "Around 20 countries have been attacked by ransomware, the new virus which encrypts your applications until ransom is paid, get Malwarebytes now to protect your devices and be free from safety worries!"
c) Logos
Logos, which is logic, is to quote the credible sources such as positive testimonials from users of the particular brand, or getting researchers and experts to prove your brand as being trustworthy and effective to the customers after they purchase the brand. This will increase visibility and also trust in new buyers as well as increasing brand loyalty.