In this article, we will debunk some of the top myths that will guide your marketing effort to reach Malaysian consumer effectively. So, what are these strategies and what is going to happen in 2020 and beyond? Alright, here are essential 4 digital marketing steps-by-step guides you need to know when doing online marketing in Malaysia.
Firstly, let's agree that the secret to developing an effective digital marketing strategy is preparation and consideration of the latest trends that will dominate in coming years. To help you create a digital marketing strategy, we're providing you with following 4 simple steps that is fundamental: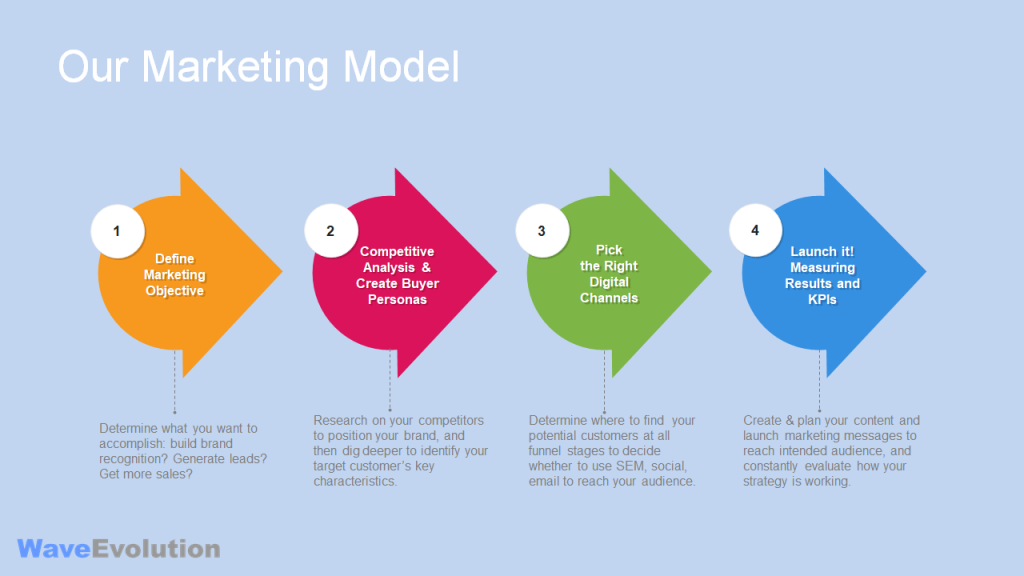 Step 1: Set a Marketing Goals & Objective
The first step to driving success with your digital marketing plan is defining your goals & objective. The goals you developed must be achievable and measurable. Do you want 100 orders in a month, increase of social followers by 20% each month, 10 responses to every email campaign you blast, hit #1 position on Google searches with at least 5 keywords? When you set goals, it's crucial that you set measurable ones follow the "SMART" goals. SMART stands for:
Specific

Measurable

Attainable

Relevant

Timely
Step 2: Create Buyer Persona
A buyer persona is a research-based profile that depicts your ideal customer. Buyer personas describe who your ideal customers are, you may create your own buyer personas by taking into account things like demographics (age, gender, income level, location), psychographics (interests, lifestyle, personality), what primary purpose they bought your product and objection (why would they consider not buying it), and even their communication preferences (way they communicate – do they prefer call or WhatsApp or email).
As an example, let's create a customer person for a fashion line. If you are ZARA and targeting new women's fashion line, how would you go about creating a buyer persona? See below example: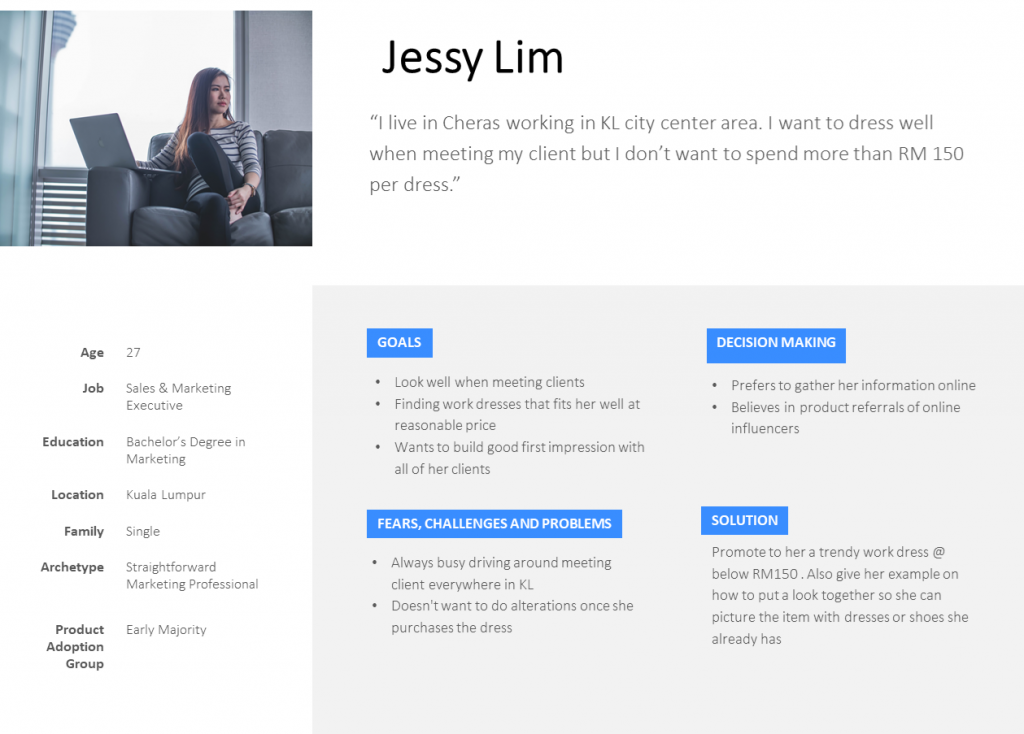 Or download this buyer persona PowerPoint template you could use to develop your ideal customer profile!
So what's the use of buyer persona? It's very useful after understanding your buyers and where they are online; you'll get a better sense of the channels that will work best in advertising or marketing to them. Example, if your buyers are young lady aged 20-30+ in Malaysia; Instagram is a good platform to reach them effectively.
One important tip, if you want to understand more in depth about Malaysian consumer demography, you may obtain some useful data from Department of Statistics Malaysia Official Website https://www.dosm.gov.my, some relevant statistics to support digital marketing efforts are:
1. Population & Demography

2. Household Income & Expenditure

3. ICT Use and Access By Individuals and Households
Step 3: Choose your Digital Marketing Channels & Methods
In your digital marketing campaign you will probably want to utilize as many channels as possible. But wait, not all digital marketing activities might profit your business, so it's essential that you know the different channels that are available and how each will benefit your business and then decide which digital marketing techniques your business actually needs. Generally, there are many methods available to your business, common strategies for beginner are:
Search Engine Optimization (SEO)
SEO in layman's terms is about getting a website to the top of search engines especially Google when user typing certain keywords into the search box, so that you get more visitors. SEO is always proclaimed as one of the most cost-efficient online marketing strategies you can pursue because when you already have a top ranking, there is no need for you to pay per click or advertise your page. So let's assume that you want to learn how to do SEO, how steep is that learning curve? It generally takes few months to learn and I couldn't explain step-by-steps guides how to do SEO in this post, but below are some useful resources to learn SEO for free & paid:
1. Directly from Google – download PDF here

2. Websites & articles from MOZ.com, Search Engine Watch, Search Engine Journal, Search Engine Land etc

3. Udemy – It is an online learning platform aimed at professional, learn anything on your schedule from as low as < USD 100 per course or some courses are totally free.

4. LinkedIn Learning – Learn from beginner basics to advanced techniques, with online video tutorials taught by industry experts, available as a Premium monthly subscription for USD 29.99.
Google Ads (Pay-Per-Click / PPC) Advertising
Many people confused with PPC vs SEO. When you type a word into Google you are presented with listings that match your search, some listings are 'organic' (SEO) and others are 'paid for' (PPC). Screenshot below tells it all:
Wanted to learn Google Ads / PPC advertising? Below are some useful resources to learn Google Ads for free & paid:
1. Directly from Google

2. Online Courses: Available in Udemy & LinkedIn Learning
Social Media Marketing
Malaysians social media users spend an average of 5 hours and 47 minutes a day across platforms. WhatsApp is the most used platform in Malaysia, with almost nine in ten (88%) using app at least once a week. This is followed by Facebook (81%), YouTube (74%), Instagram (64%) and Facebook Messenger (40%). Some data finds that Malaysian's main motivation for going on social media is to stay up to date with news and current events (72%), followed by keeping in touch with friends (69%). Other reasons include sharing photos, videos or other content with people (51%), to find funny or engaging content (48%) and to research / find new products to buy (45%). So, it's very crucial that you leverage on social media platforms like Facebook & Instagram to connect with Malaysian audience to build your brand, increase sales, and drive website traffic.
To get started with social media, don't be shocked that it's almost a 24/7 job, it means monitoring, managing, updating content posting and being inspired by the clients and other sources, it require you to be creative like an artist but also learning to be the "data scientist". To make an impact on social media, you'll typically need to have marketing skills (tactics and execution), graphic design skills (create images, infographics, & videos for posting), writing skills (caption, company news), etc.
Email Marketing
Many marketers started to question the future value of email marketing. In fact, email marketing is one of the best marketing methods available for small businesses with strict budget considerations. Marketing your products or services by email can be a fast, flexible and cost-effective way of reaching new customers and retaining existing customers by encouraging repeat purchase. To get started, you'll need email marketing software to send in bulk, below are options:
Free – Mailchimp offers the free plan for up to 2,000 contacts and 10,000 emails per month (with ads).

Paid – Email Marketing Software Platform, locally incorporated in Malaysia and owned by Wave Evolution, we have been perfecting email marketing for over a decade servicing some of the largest brands in Malaysia, Singapore & Hong Kong. You'll have no worry about technical support talking to you in phone & visiting your office, strategic email campaign planning by dedicated account manager driving desired ROI & results, data security & hosted locally to be in compliance with PDPA Malaysia, etc.
Influencer Marketing
Influencer marketing is all about working with social media influencers to help your business grow. It is a strategy that orients itself around an influential person or someone with some online fame and an audience in a given industry. Local Malaysian brands continue to leverage on social media influencers' reach for the masses and the number is expected to grow between 20% and 30% this year. Here are top 3 things to look for when identifying online influencers for your brand:
1. Relevance – look at how aligned a blogger's content is with your messaging

2. Engagement – Do those readers respond, comment, and share?

3. Reach – numbers of followers & traffic
So how to reach out direct to local influencer in Malaysia? Options are, you may directly contact them via email or messenger on their Facebook or Instagram page or blog (if any), or u may go thru some influencer marketing agency.
The options are endless in digital marketing but it is wise to hire a local digital marketing agency in Malaysia to plan out the implementation as executing digital marketing campaigns can be a huge task especially for a SME owner or small size marketing department.
Step 4: Measure Results & KPI
Measuring results is crucial in determining whether your business was successful with your efforts. A KPI is a measurable value that shows how effectively you're achieving specific key business objectives. Here are a few common KPIs you can measure:
Cost Per Lead (CPL): You can calculate your Cost Per Lead by dividing your total marketing spend by the total number of new leads.
Consider your company spent RM 1,000 on your Pay-Per-Click (Google Ads) campaign and 10 users convert to leads: Cost Per Lead = RM 1,000/10 = RM 100
However RM100 per lead has a different value for a company selling car than for a toy store, it varies significantly across industries. The ultimate goal is to minimize the CPL, a low CPL with a high volume of quality leads is good indicator that your campaign is doing well.
Return on Ad Spend (ROAS): This KPI tracks how much money you make for every dollar you spend on ads. A positive ROAS means that you're making more than you're spending on ads. This metric lets you know if your marketing is working — or not, depending on whether your ROAS is positive or negative. Calculating ROAS:
For example, a company spends RM2,000 on an online advertising campaign in a single month. In this month, the campaign results in revenue of RM10,000. Therefore, the ROAS is a ratio of 5 to 1 (or 500 percent) as RM10,000 divided by RM2,000 = RM5. It means, for every dollar that the company spends on its advertising campaign, it generates RM5 worth of revenue.
An acceptable ROAS is influenced by profit margins, operating expenses, and the overall health of the business. While there's no "right" answer, a common ROAS benchmark is a 4:1 ratio — RM4 revenue to RM1 in ad spend.
Well, you've finally decided to leverage on digital marketing to grow your business, right? Something is amiss: you just don't know where to get started, that's normal. Digital marketing can be somewhat complicated if your company lacks the resources, time, and expertise for such an undertaking. So it makes sense to work with a digital marketing agency. Feel free to drop us a line info@waveevo.com how Wave Evolution can grow your business online.