Email Marketing for Retailers in Asia
According to some reports, the email open rate in Asia is 24.81% and a high click-through rate of 3.53% in 2017. Obviously, Asia demonstrated high usage of email marketing and this landscape is growing consistently especially in Malaysia and Singapore.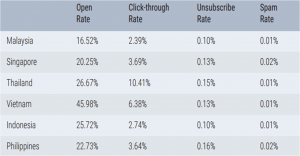 Evidently, email marketing is still one of the top profit drivers among all the diverse digital advertising tools and also is a dependable driver of return of investment (ROI) for many businesses. Email marketing can increase sales leads as well as having an effective brand strategy and web presence to gain customer awareness, it's highly regarded as one of the most important marketing tool in this high competitive market. So we can conclude that email is still a powerful marketing and communication tool for retailers to reach out more potential consumers.
Moreover, email was preferred mode of receiving marketing information but only 5% of consumers (email recipients) regard email messages as appropriate, timely and persuasive. Due to these mistakes, retailers might lose a lot of potential customers.

Thus, retailers struggle to increase the email open rates through effective personalised and automated emails. Meanwhile, they also attempt to practise analysing user behaviour to further improve conversion rates as well as to accomplish full potential of email marketing.
Email personalization and automation becomes the key to success and trendsetter in 2018. Personalised emails are more acceptable by consumers and potentially influencing customers to have some feelings of caring. Personalised email messages have also improved click-through rates by an average of 14% and conversions by 10% with up to 6 times transaction rates. Email automation has also become one of the dominant trend in retail industry and adopted by two-thirds of businesses.
Lastly, messaging channels such as SMS and email still remain as the highest adoption by retailers in recent years.
If you would like to learn how Wave Evolution can drive your email marketing strategy forward, please email info@waveevo.com or visit www.WaveEvo.com