SMS MARKETING; WHAT IS IT? HOW DOES IT WORK?
SMS Marketing (Short Message Service Marketing) is used to send short-texted messages (160 characters maximum) to mobile phones. SMS Marketing may prevent you from being blacklisted since there is only 1% chance of being reported as spam, as opposed to 90% of that of emails. It is really easy channel to instantly inform your customers of your promotions and events or any other kind of information (conference, online live, medical appointment reminder etc…). SMS marketing has become a better option for clarity, immediacy, effectiveness and yet affordable.
Are marketers still unsure of SMS as an effective marketing channel? In fact, 8.6 trillion text messages are sent every year on average. A survey found out that most people read their emails once or twice a day but they read their text messages right away (SMS messages are read within the first 4 minutes after received.)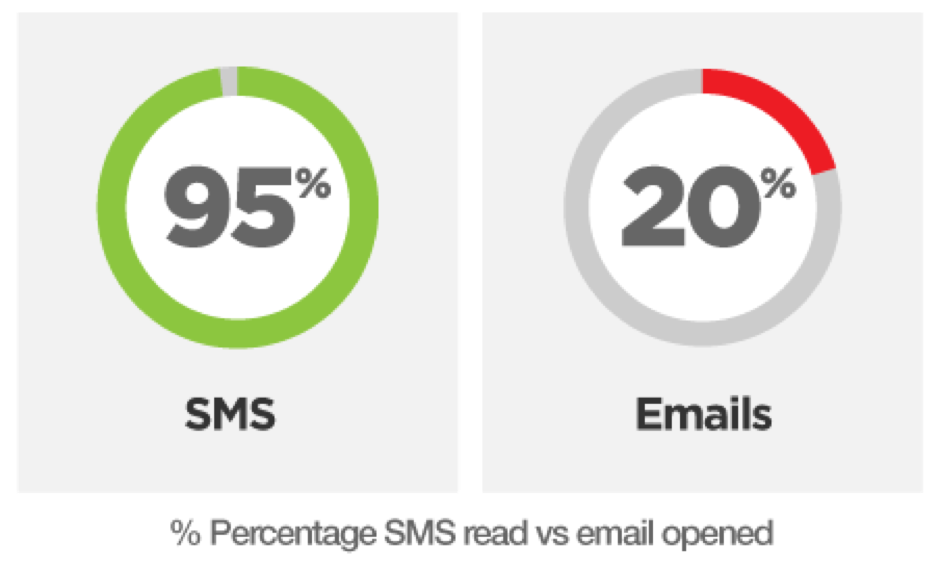 Here's the percentage of SMS read vs email opened, according to desde.co/sms-vs-email-marketing
These numbers suggest that, not only people are constantly texting each other but they'd rather receive SMS than emails when subscribing to newsletters. Nevertheless, as a marketing company, we believe that this can be explained by the fact that SMS are more for b2c companies whereas emails are more used in b2b companies.
Here's what we suggest you to implement for your SMS Marketing effort:
Keep it short and simple
Since you only have 160 characters, you need to be clear and go straight to the point. You don't want to waste character space with long description, every character is precious. You also need to make sure to include a CTA (Call To Action) so readers know what you're expecting them to do. You still have to be mindful of the language you're using: you don't want to be too formal but you don't want to use slang either.
Timing is the key here
You definitely don't want to overload your clients with messages and get them to ignore your SMS or to even delete them. You need to find the right frequency; most businesses send one text every two weeks.
You also don't want to send an SMS to your client early in the morning or too late in the evening. You need to make sure they have enough time to act on your message.
You can include an expiration date in your text. Make sure your clients know when the offer expires.
Be creative and vary your content
Your text message has to be attractive. There is nothing more boring than receiving the same text twice. Or worse, receiving the same content by SMS and by Email. Why would someone subscribe to SMS and Email if they are going to receive the same content twice? There's no point.
You also need to be creative so that you can differentiate yourself from your competitors and people will get more attracted to yours rather than theirs.
Allow subscribers to Opt-Out
You have to let people aware that they can unsubscribe from your messages, to comply with the law. You may simplify this process by just adding "Text STOP to unsubscribe" at the end of your SMS.
If you would like to learn how WaveEvolution can help you with SMS Marketing, please email to info@waveevo.com or visit www.WaveEvo.com