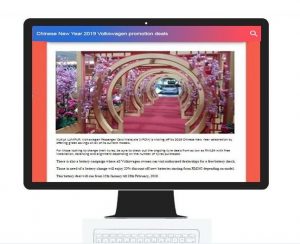 To us fellow Malaysians, Chinese New Year has always been a historic event for every family. It isn't just the festive celebration itself that we keep an enthusiastic eye on, but we are equally fanatic when we see discounts, promotion deals and freebies overloading our sights on the internet when we do online shopping, having YouTube ads occupying the screen when we engage with our own videos search, or even ads flooding our social media apps. It is not only fruitful occasion to us customers but at the same time, business marketers are feverishly reaching out through digital media to the external publics.
The thing about internet users during festive seasons is, there is no such thing as last minute online search, and we have the tendency to be the way too early birds to build festival excitement, like around a month before the festive timing strikes, netizens start hitting online searches like wildfire. Industry analysis stats showed that viewers spent 130M minutes per search clicks in 2018 to look up for CNY current trend inspirations, which is a huge opportunity for digital marketers to come up with brand awareness approaches. At the same time, new population research indicated that the Chinese Malaysian community comprises of 23%, and this community has gradually turned to Google, social media and YouTube for CNY celebration plans and ideas.
So then, what are netizens really expecting from the online search? How do businesses connect to customers in the current trend market?
In comparison with Google search, it is observed that we Malaysians prefer streaming YouTube music clips and as for the Gen Y and Z, they are into streaming famous YouTubers' funny or emotional videos, namely Lim Big Yong Productions and Epicism. These YouTuber celebrities also tend to do influencer marketing (also known as online influencers) in their videos, such as Epicism promoting Honestbee online grocery shopping app and Lim Big Yong Productions doing emotional CNY reunion video to promote their channel and also to keep netizens in the festive mood. As for the older generations, they usually go on YouTube to learn new meals and enhance their creativity in food preparation for the CNY reunion. According to The Star, sales of festive season increase up to 50% on some food items. Therefore, it gives the idea for the marketers to run their advertisements on YouTube ads just before any of their searched videos play, or best is have the ad plastered on the top centre of YouTube home page. Also, this can be another option for marketers to engage with these key influencers to gain more credibility and new followers as well.
Google Shopping Ads is also an ideal method to catch the eyes of the potential target market of the products or services deals and promotions that companies have came out with. The message will even be more impactful if countdown ads tactic is executed into the content of the ads. This method will skyrocket the profit value of the companies, as well as gaining customer happiness on both sides of the same coin, whereby win-win solution is achieved. Be it shopping for cheap groceries or ranging to attire shopping, shopping has become the central part of our lives.
According to Industry Manager of Ecommerce and Travel Su Ann Lim from Google Malaysia, she stated that online shopping becoming a preferred and trusted shopping alternative, as the ones making online investments comprises of 30%, and those who shop in the conservative offline way always come back to the online search route. The evidence is witnessed by Marketing Vice President Peter Lee of 11street Malaysia who said that their company has conducting service testing of Shopping Ads with Google since the beginning of 2017, and statistic shows that the retailers' conversion rate has skyrocketed twofold and the cost pre-acquisition has improvised itself by 85% after the launch of Google Shopping Ads. This improvement of sales traffic is due to customers' keenness of attractive images and Google Shopping Ads nature of high visibility when they are in online shopping spree.