Problems viewing? Click to view online

| | |
| --- | --- |
| | FIRST LUXURY BRAND RESIDENTIAL DEVELOPMENT IN NISEKO, JAPAN |
Voted 2nd in Forbes Traveler's "20 snowiest ski resorts in the world" in 2008

Won Japan's Best Ski Resort in 2014 
(2nd straight year)

Voted "Best Powder Snow Resort by National Geographic" in 2014

Top 10 safest countries in the world 2014-2015, 8th ranking, Japan
| | |
| --- | --- |
| • | KASARA BRANDING |
| | Kasara Niseko Village Townhouse is the latest addition to YTL Hotels' portfolio of 23 luxury hotels and resorts in 8 countries, including the highly acclaimed Pangkor Laut Resort, The Majestic Kuala Lumpur, Ritz Carlton Kuala Lumpur and JW Marriott Hotel Kuala Lumpur in Malaysia; Spa Village Resort Tembok, Bali in Indonesia; Sydney Harbour Marriott Hotel Australia; and MUSE Saint Tropez in France. |
| | As the flagship development of YTL Hotels' Kasara brand, residents can expect an unrivalled luxury residential experience tailored to the finest design, finishes and fittings; including access to world-class hotel amenities and services. |
| • | EXCLUSIVE TOWNHOUSE DEVELOPMENT IN NISEKO |
| | The freehold 42 three-bedroom townhouses of approximately 2,700 sq ft feature authentic Machiya Japanese charm – first ever in Niseko, exude a contemporary elegance with commanding views of Mount Yotei. |
| • | FULLY FURNISHED WITH BESPOKE FINISHING |
| | The townhouses are designed by award-winning designer, Design Intervention and are fully furnished with luxurious bespoke accoutrements, creating a modern, inspiring and relaxing home environment. Units come with a tatami room that allows the flexibility of converting into a dining or an additional bedroom. |
| | Residents and guests enjoy the privilege of pampering themselves with the concierge services provided by established Hilton Niseko Village and The Green Leaf Niseko Village Hotels. Owners can also benefit from YTL Hotel's established international network and marketing to maximize rental returns under the rental program. |
| • | RENTAL GUARANTEE SCHEME AVAILABLE |
| | Guaranteed 3% net return annually for 2 years. |

Kasara promises an experience of luxury, authenticity and timelessness. Local influences, culture and traditions are interwoven to create compelling, standout experiences that resonate with the destination.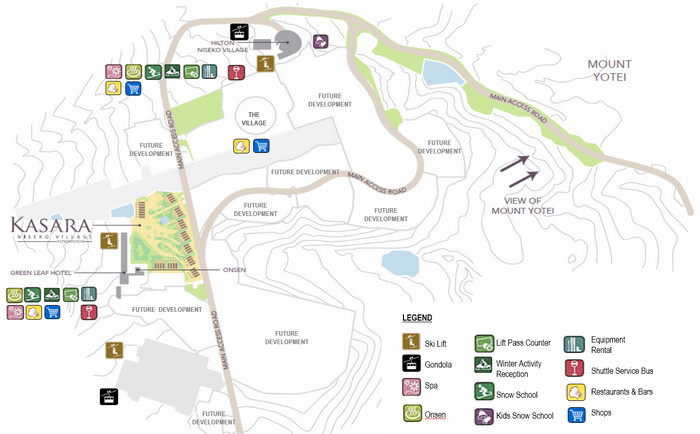 For enquiries, please contact :
Main Line : +65 6578 9020
Mobile : +81 (0) 90 2477 3693
DISCLAIMER
While all reasonable care has been taken in preparing this material, the developer and its agent(s) shall not be held responsible for any inaccuracies or omissions. All statements are believed to be correct at time of print but shall be regarded as statements or representations of facts. Visual representations including models, drawings, illustrations, photographs, videos, figures and renderings portrayed are artistic impressions only and are not to be taken as representations of fact. All information, plans and specifications are current at the time of print and are subject to changes as may be required or approved by the developer and/ or the relevant authorities. All information contained in this document are provided for information purposes only and shall not be regarded as financial or investment advice or be relied upon as a sole means of making any investment decision. You should seek professional, independent and specific advice on any such investment decision.

If you no longer wish to receive emails from YTL Singapore, you may reply 'Unsubscribe' to this email.