The next phase in marketplace:  Artificial intelligence (AI) – Solution to phenomenal productivity in digital business world!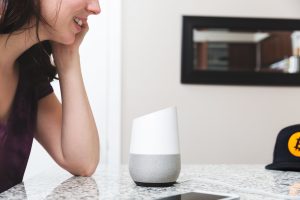 What's next in marketing? Artificial intelligence will dominate marketing!
Do Apple's Siri or Google Assistant sound familiar to you?
These are the examples of artificial intelligence not only comes in convenient and handy for daily use, but it is proven to be a practical and powerful companion in the business workplace, making it the ultimate tool in running an organisation. Producing more than the desired effects in business world is what every organisation asks for.
The introducing of AI services is due to the inconsistency of productivity being noted in daily business functions over the years. The reason of the business operators being able to have rapid output growth rate is due to AI as the catalyst which ushers in the effectiveness of overcoming a business world that is constantly demanding for productivity in immediacy.
Now we come to the subareas of AI, which consist of machine learning techniques, applied propensity models and AI applications. Firstly, machine learning is the core area in AI, and this technique is to learn automatically from historical data by using algorithms and conduct tasks without needing human intervention.  Applied propensity models are generalising traits of historical buyers, while AI application is associated with human operator such as answering enquiries.
Why artificial intelligence (AI)?
Good tracking and deeper insights
Delivering high-quality results
Save money and less effort utilised
Immediacy and convenience
Increase brand sophistication in analysing customer information
Creative method of increasing interactivity with customers
Marketing automation
Siri, Google Assistant, Google Now and Google Duplex are virtual personal assistants on different platforms which involved IOS, Android and others. In other words, these are intelligent applications in generating information results from the internet by using voice search instead of the usual conventional typing-out-keywords method. For instance, we can do voice search "What are the most recent Joox Music promotion offers?" and it will respond by finding relevant information. In fact, the speed of result generation is faster than typing, as typing needs time to construct the sentence. Adding on, voice search is more convenient than typing because business marketers can use voice search even at places and timing that is inconvenient to look at phones, and yet able to attend to their urgency simultaneously, such as driving or crossing roads. Furthermore, voice search has great potentials in making shifts in SEO strategies in future due to its capability to boost organic traffic and investment intention of customers.
Moreover, chatbots can understand and interpret the queries of customers and complete orders for them, such as Facebook messenger which has its own chatbots (automated text-based virtual assistants) which allows train bots with sample conversations and keep customers ongoing with the interaction.
The development and improvement of AI are the vital points for future marketing efforts; marketers should not overlook the expediency of using robots in business performance and we should cater it to the fullest use. Thus, AI should be integrated into every profit-driven company and should be made known to every type of businesses; from startup business to international corporations help us in reaching the goal of contact the right customers with the right offer through the right channel at the right time.
If you would like to learn to use digital marketing strategies in your business operation, feel free to drop us an email to info@waveevo.com or visit www.WaveEvo.com to find out more on other services which we offer as well. We will be glad to be of your best assistance!