Digital Marketing for Retailers in Asia
2018's entrance comes with a move in digital marketing due to the high demand of integrated experiences from consumers and dynamic changes in consumer behavior. Apparently, digital marketing trend transformed businesses in Asia.
Most of the businesses in Malaysia are adopting digital marketing to capture the lucrative online marketplace with excellent digital marketing tools for sustaining businesses in this intense competition. Therefore, it is very significant for retailers to understand their digital marketing campaign better through tracking engagements, likes and shares as well as analyzing social traffic patterns for improving their weaknesses.
In Singapore, small and large companies are now revolving to digital marketing and started to move into a highly digitalized society. Today's businesses in Singapore are implementing aggressive digital marketing strategies such as Facebook advertising, search engine optimisation, paid search, and mobile marketing to reach even wider target audiences.
Hong Kong, China and other Asian countries are also following this trendsetter and started to adopt digital marketing in their businesses.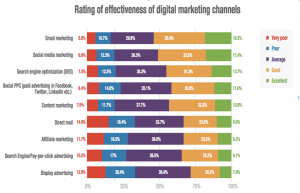 The top three effective digital marketing channels:
Email Marketing
Email receives average 30 times of return on investment (ROI) for businesses
Social Media Marketing
In 2018, social media users achieves 3.196 billion and increase 13% year-on-year
Search Engine Marketing
Before the purchase, shoppers (80%) will do research online
Consumers (71%) will engage the websites or click on a link from the first page of their search results
If you would like to learn how Wave Evolution can drive your digital marketing strategy forward, please email info@waveevo.com or visit www.WaveEvo.com