Customers in any kind of business always have their own unique characteristics, in which knowing their demanding needs is being necessary for the marketers to find out what is the best thing to be applied. It is also one of the important elements to deal with for the marketers on managing customers relations through Business to Business (B2B). The strategy for this marketing type is that how to ensure the customer to trust over our brand quality.
The right digital marketing tactics could bring the great and better results. In the making of the strategies itself, marketers need to consider these things out.
1. Investing in Social Media
Since social media has become an arena for anyone to reach out any kind of business run, it does a very convenience place to develop marketing strategies with various audiences. By these digital advantages, B2B marketers tend to make a strategic approach move. The simple way could be a magnet on focusing the opportunity to reach high number of ROI. This is because your social media optimisation is essential to a business development.
According to Social Media Examiner, 85% testified that social media marketing is their #1 solution in gaining content distribution visibility and traffic leads. 64% B2B marketing agencies use social media as their primary marketing platforms. In the future, 38% of marketing agencies plan to switch to digital marketing and use social media marketing as the main funnel of distribution. In fact, with social media, the companies can keep track of whether their brands or services are benefiting the customers or causing them more problems by social media monitoring and social media listening.
Without social media, the companies will not know the reason why their business have a fallout. With social media monitoring and listening, companies will have more customer engagement and interaction with customers whereby the companies can learn from customers' comments and improvise on their products and services, as customer relations is the pillar of a business growth.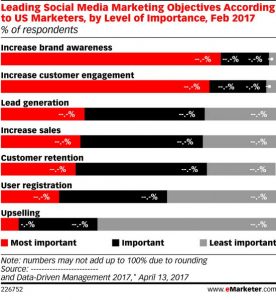 2. Creating High Quality Content
Constant improvement should be a good indication of the B2B marketing strategies. By improving the content, the marketers could plan the long-term strategies, in which helping the customers to understand more about your products. Providing the supportive information and influencer will be a good option. This is why content marketing is important, because the content describes what the company is. Without a good content to market your product or service, the company cannot gain exposure and the company will become an invisible ghost in the competitive market these days. What turns the visitors into loyal customers is not just by the conventional word-of-mouth (WOM), but the real WOM is the content marketing itself and the brand identity.
Based on the survey conducted by Marketing Charts, content marketing is the first reason for B2B building. In fact, as discussed on the social media engagement, the way to create a better engagement on social media marketing is by the power of content marketing to create a successful brand by long-term shot.
The more content the company builds, the more customer engagement, and this will ultimately draw influencers to market your brand, in which we refer as influencer marketing. When influencers build brand for you, this will increase your ROI (return of investment) because influencers are more credible than brand ambassador advertising and they are not simply marketing a brand and promoting themselves. Micro-influencers who only have thousands of followers, they usually testify what they believe in and what benefits them. So if your brand benefits them, your brand positioning will be a successful journey.
3. Getting started into B2B Marketing Specialist
This marketing agency allows you to perform better control over your marketing strategies. Any particular needs will be done by outsourcing the digital marketing specialist. What B2B marketing specialists do is they will help you create a marketing plan by the 4Ps marketing mix (product, place, pricing and promotion).
As for the product, specialists will have to find out the buying intention and behaviours of the consumers. From there, they will curate relevant products and services to them instead of coming up with unnecessary products that their target consumers don't actually find it practical to them. This also helps in saving time and budget spend on the irrelevant products. They have to find out about the latest trends and gaps in the current trends, so that they can come up with products that are trending in the market and also the trending product can become a solution for the consumers, in which the product becomes the USP (unique selling proposition).
Then for the price, these B2B marketing experts must know the ideal price to sell their products and services, whereby if the price is higher or lower than consumers' perceived pricing, then their brand will not have a saleable advantage and in fact, this will cause them to suffer budget loss. Nowadays, consumers judge the product pricing based on its net worth and competitors' pricing value, and if the value of the product does not match the price or is higher than the competitors who provides better features with lower price, then again, this brand will not gain the marketing exposure.
It is even better to use left-digit effect in price psychology to make people think that the price is cheaper than is intended. For example, a clothing of $100 be marked as $99.90 will cause consumers to be more willing to spend on the product and gives a better market penetration.
As for the place, whether the brand can stand out in the public eye, depends on where the product is prepositioned at. For example in urban city versus rural areas, if this product is a IoT-based product, but it is sold more at the rural areas than the urban areas, then this product won't gain much traction. Whereas if the product is distributed more in the urban markets, then it will gain more recognition because in urban areas, people can afford higher prices and there are more young adults and working class compared to rural areas which consist of more senior citizens. In carving a strategic marketing plan, people need to know the interests and buying habits of consumers at different locations, so that the marketers can provide related products and services to the right people.
A lot of times, businesses experience a dive in revenue returns is due to their lack of promotion plans. Such promotions in digital marketing sector includes social media, blog articles, press releases news, QR code marketing, co-marketing promotions SMS marketing and email marketing automation. For this, digital marketers need to plan when is the best timing to do the promotions by monitoring when the consumers will do more shopping, for instance during holiday seasons and festives such as Labor Day or 2 weeks Chinese New Year celebrations.
If you would like to learn how WaveEvolution can help you with Digital Marketing, please email to info@waveevo.com or visit www.WaveEvo.com